The air we breathe
Essence of our life.

The air we breathe is the essence of life for us humans. A healthy adult breathes in and out at least 10,000 litres of air a day. Humans survive without oxygen-containing air for only a few minutes. Reason enough to take a closer look.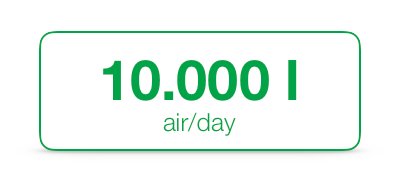 The air consists not only of oxygen and nitrogen, but is also enriched with gaseous water (steam). Humidity describes the amount of water vapour in the air surrounding us. The optimum ratio of the amount of water vapour to the amount of surrounding air has a great influence on our health and well-being. Since our body does not have its own sensory organ to "measure" the humidity of the air, we do not actively react to changes in humidity and therefore pay too little attention to this aspect.
Outdoors, nature takes over the regulation of the air humidity, e.g. through sun, wind and rain. In closed rooms, the responsibility for a healthy indoor climate lies with the planners and ventilation system manufacturers.


Our comfort zone 40-60 %
Optimal for humans - bad for viruses and bacteria.
The comfort zone for humans lies between 40 and 60 % relative humidity (RH). Between these two values, the person feels comfortable, is efficient and remains healthy. At the same time, viruses and bacteria are slowed down in their spread and their ability to survive is reduced.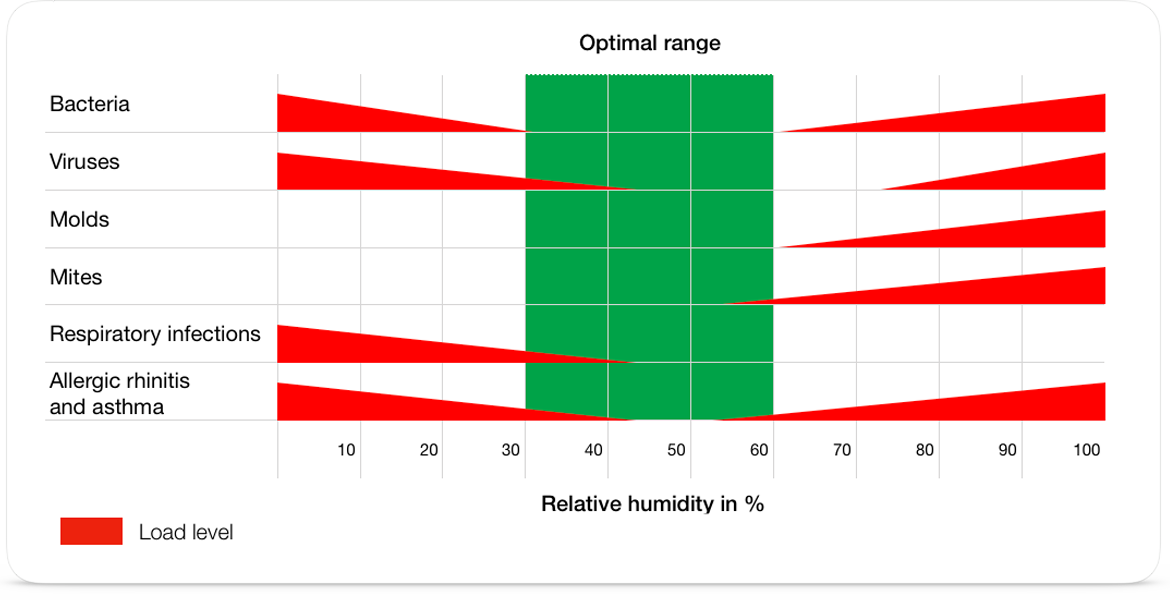 A stable comfort zone 40-60 %
With heating in autumn/winter, the relative humidity decreases.

Keeping the humidity stable in our comfort zone at 40-60% is not always easy and can only be reliably guaranteed by controlled humidification of the indoor air. Particularly in autumn and winter, we quickly leave the optimum range between 40 and 60 % relative humidity (RH) due to the regular and necessary exchange of the heated indoor air with colder outside air. This is because cold air can absorb less moisture than warmer air for physical reasons. If this outside air now enters a warm room and heats up from, for example, 0 °C to 22 °C, the relative humidity (RH) of this heated air cannot exceed approx. 20 %. This means that in winter, the supply of fresh air inevitably leads to a reduction in the humidity of the indoor air and to leaving the comfort zone of 40-60%.
Did you know that...
... according to estimates by the German Building Climate Association (FGK), 95 % of air conditioning systems do not fully meet the requirements of providing the best possible comfort and air quality, at least in winter, due to a lack of air humidification?
In order to avoid this, the regulation of the air humidity by supplementing professional humidifiers in indoor air conditioning systems (AC systems) or by direct room humidifiers is recommended as state of the art.
The optimum air humidity 40-60 %
Effects on the most important factors in our lives.

Comfort zone 40-60 %
The optimal air humidity for our areas of life.
Get information and advice now.
Ohne angegebene PLZ wird Ihre Anfrage als allgemeine Anfrage an hy@hygromatik.com weitergeleitet.